Bathroom vanities can be the centerpiece of your bathroom. The right style can help to bring your space together and even make your bathroom more functional.
But how do you choose the right style?
Having the right bathroom vanity can make all the difference in a tiny or cluttered bathroom. But buying the wrong kind of vanity can be a costly mistake. Make sure you get the most out of your new vanity by reading these seven key tips first.
1. Consider Your Needs for a Bathroom
Your first step when preparing for a new bathroom vanity is to examine your current situation and figure out your needs.
There are many reasons for installing a new vanity such as updating an old-style or adding more storage. For example, if you have an old pedestal sink you may not have enough counter space for your bathroom products.

Consider who uses the space most often. Do you have to share the bathroom in the morning with a lot of people? If so, you may need a vanity with two sinks.
If you need more storage, you might want a vanity with more drawers and cabinets. The width and height of your vanity are also important. You want to pick a design that is proportional to the size of your bathroom.
2. Measure Your Space
There are many different vanity sizes but not all of them will fit in your space.
Because size and flow are so important, it's critical to take enough measurements. Look for obstacles like doors or walls and make sure there's enough room to move comfortably.
Think about the way your door swings. You don't want it to hit your vanity and cause any damage. Toilet placement and shower doors are two other factors to keep in mind when planning for a new vanity.
You want plenty of clearance around any obstacles so take measurements of the space. This way, when you select your new vanity you can ensure you pick the right vanity dimensions for your space.
3. Check Your Plumbing
Before you buy your new vanity, check your plumbing. Depending on where your plumbing is, you may have limited choices on where you can place your vanity.
You can make changes to your current plumbing but it won't be cheap. Make sure you have a big enough budget to cover the added expenses. Consult with a professional plumber before beginning to determine how much to set aside for those extra costs.
Whether you need to make alterations to your plumbing system or not depends on your vanity style.
Freestanding vanities can cover any off-center plumbing issues. This style may be good for smaller budgets because it often isn't necessary to make expensive alterations. But wall-mounted vanities require extra work and cost more.
4. Decide on a Sink Style
There are many options to choose from when it comes to sink styles. Deciding on a particular style can be a matter of preference or function. For example, a vessel sink vanity looks good in both older homes and more modern spaces.
Consider the look of your bathroom and the style of your home when deciding on a sink type. Think about the size of your bathroom and your storage needs as well. Some sink styles are meant for small spaces and work great for tiny rooms or a half-bath.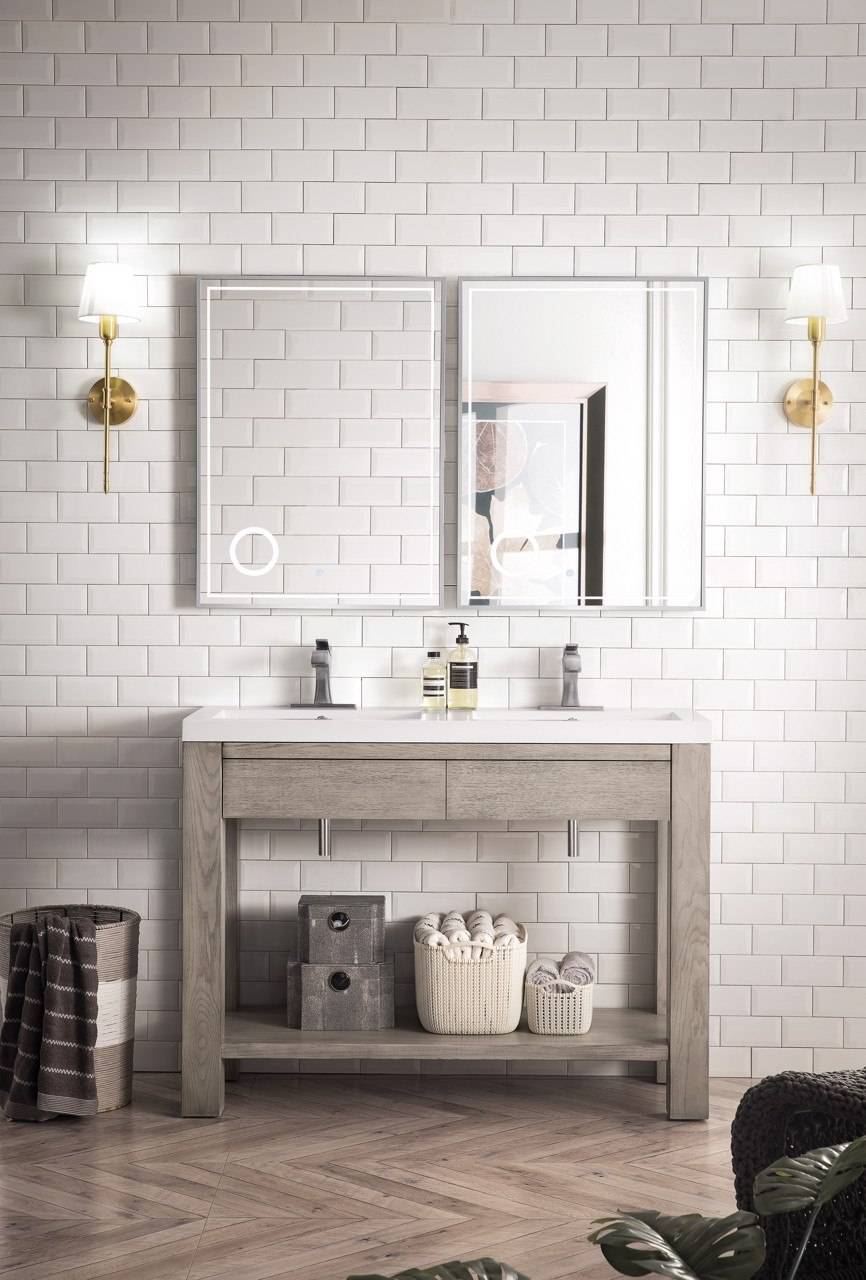 One more thing to consider is whether you need one sink or two. Double-sink styles take more room but they're great for families or anyone that needs to share the bathroom in the morning.
5. Pick the Countertop Materials
You want your bathroom vanity to be both stylish and durable. Some countertop materials handle wear and tear better than others. Consider who uses the bathroom as well as what styles you like best.
There are pros and cons to the different countertop materials used in the bathroom. When shopping for your new vanity, it's important to understand any drawbacks.
6. Decide on Storage
Lack of storage is a common complaint people have about their old bathrooms.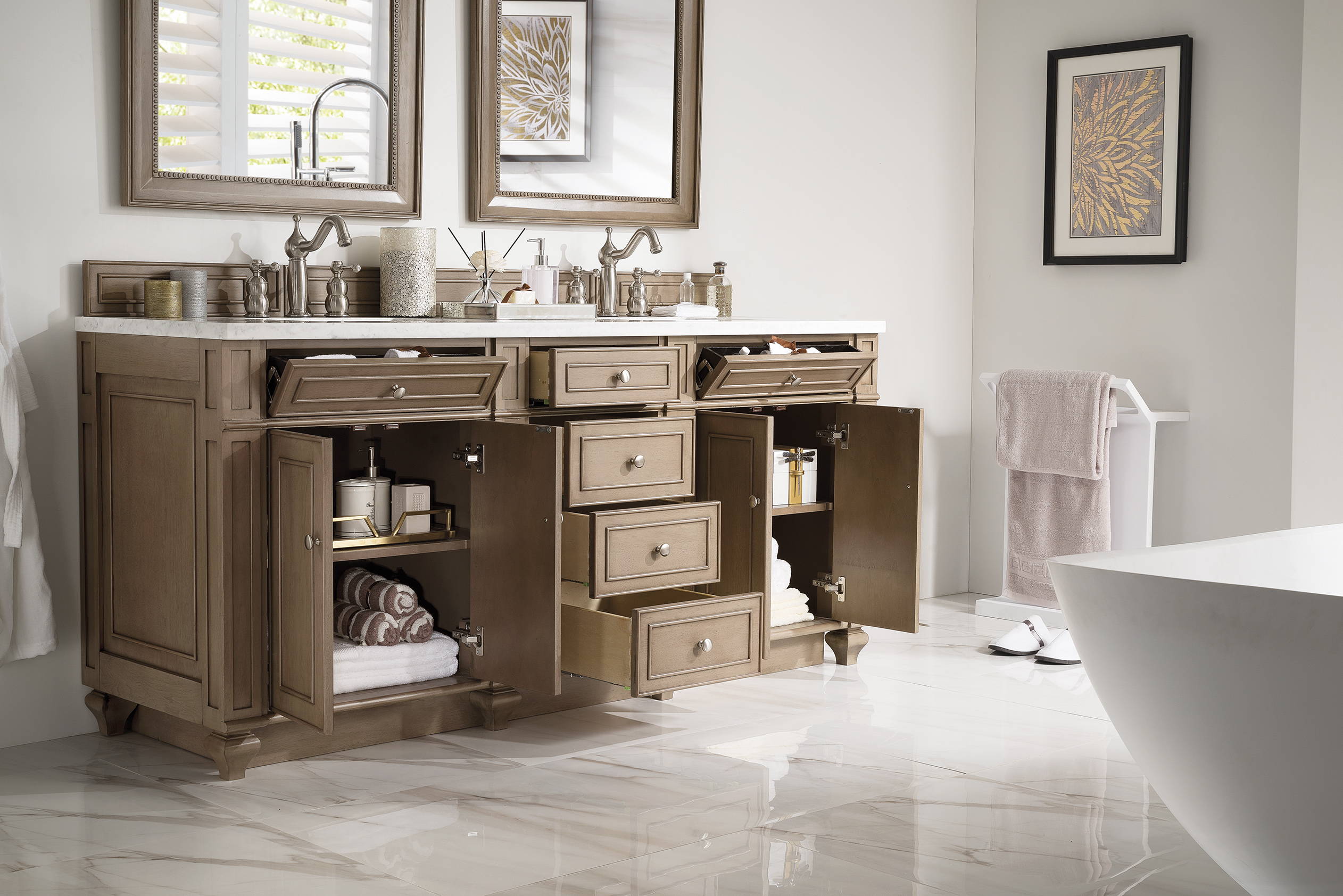 From cleaning products to cosmetics, people store all kinds of products in the bathroom. If you don't have enough places for storage, your bathroom can look and feel cluttered. But having enough drawers and cabinets for everything can make all the difference.
Make sure you keep your storage needs in mind when shopping for a new vanity. You don't want to buy one that's too large for the space, but you also want to make sure you have enough places to store your products.
Remember that you want to be able to open cabinet doors or drawers without bumping into anything. This is why it's important to measure the space beforehand and note any obstacles.
You may need to change the style of your vanity to fit your space. For example, choosing cabinet doors instead of drawers.
7. Remember the Faucet
Depending on the style you choose, your vanity may not come with the faucet. The faucet is just as important as the rest of your vanity and requires the same amount of careful planning.


If the faucet isn't included, measure the faucet holes. Find out what type of faucet you need by following the manufacturer's instructions. Widespread faucets are a popular type, but there are also center set faucets.
Don't make the mistake of ordering the wrong type of faucet and finding out it won't fit on your vanity.
Deciding Which Bathroom Vanities Are Best for You
Choosing the right bathroom vanities can help to transform your space and make it more functional and attractive.
Once you understand your needs and examine your current bathroom, you can start shopping. Remember to consider how often the bathroom gets used and who uses it. If storage is a concern, make sure you have enough.
You may need to compromise depending on the size of your room and your budget. But no matter what size and style you pick, your new bathroom is sure to look amazing.