One of the first rooms I posted about when I moved in nearly two years ago now was my master ensuite. Compared to my previous master bathroom, this one is very small but I still wanted it to feel luxurious. I'm excited to share these tips with you on what to keep in mind when renovating a small bathroom and still make it feel luxurious!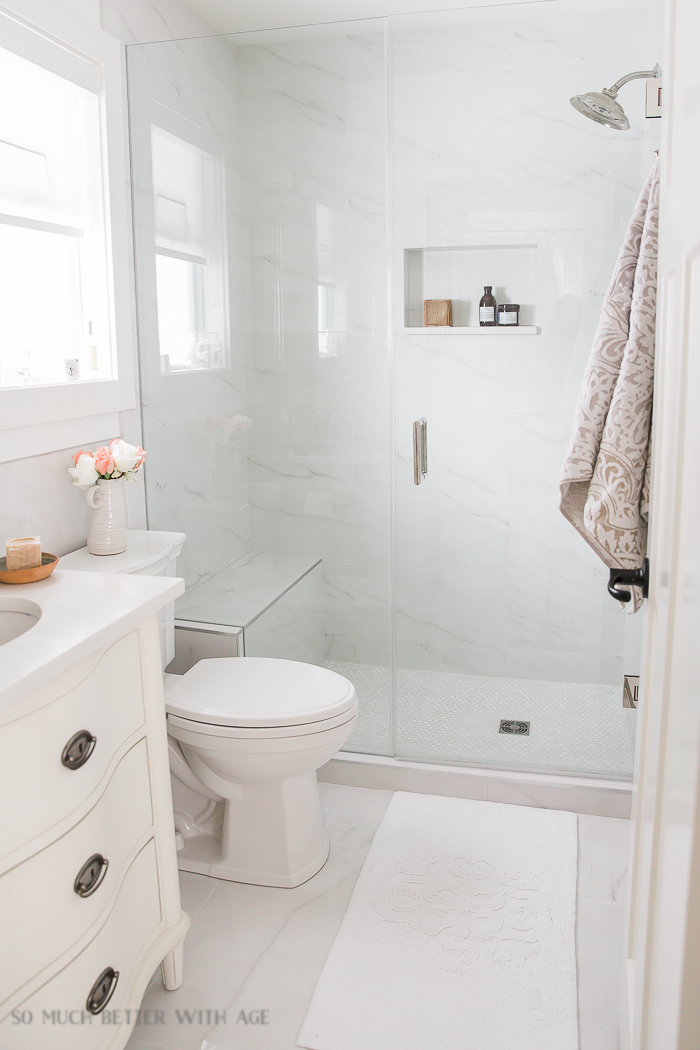 1. ADD A WALK-IN SHOWER
Unfortunately (fortunately) this old tub was leaking and needed to be replaced so this entire bathroom was gutted!
I love a big soaking tub but a shower was more practical. A walk-in shower the size of a tub space is luxurious!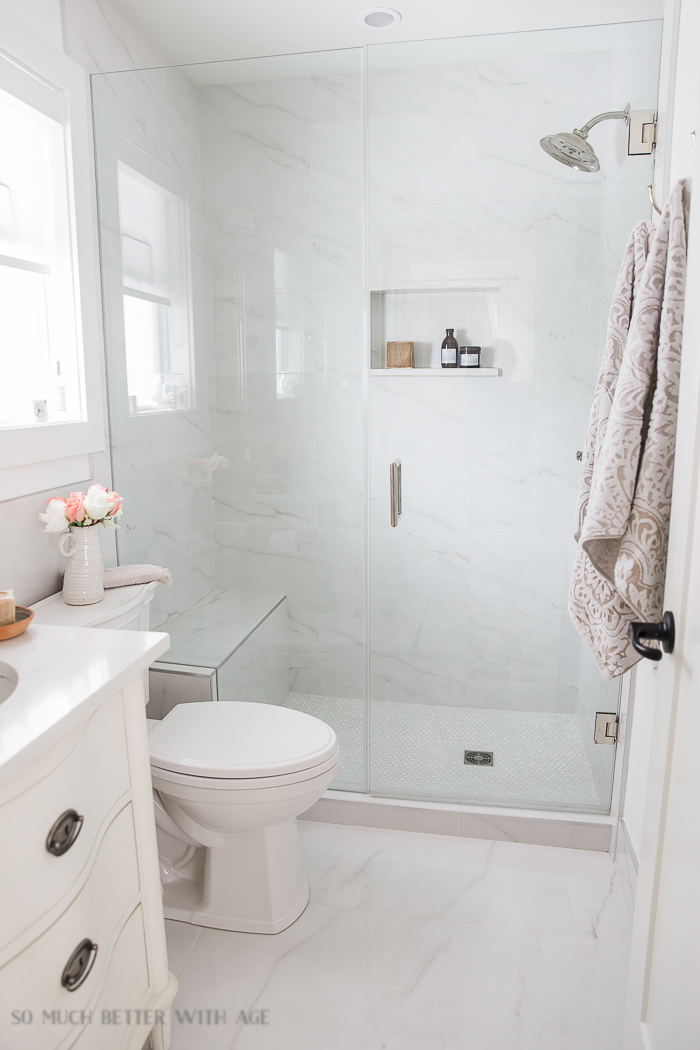 2. USE 'FAUX' MARBLE, NOT REAL
You're probably saying, what?! That's right, this is porcelain tile! The tiles are so large and look so real there is no need to buy the real deal here. Also, cleaning is way easier and you can use those savings for the rest of this list.
3. ADD A BENCH AND WALL NICHE TO THE SHOWER
If you are going to be gutting your bathroom, make sure to put some forethought into the design and add a bench to one side (a must for shaving legs, in my opinion) and a wall niche for products!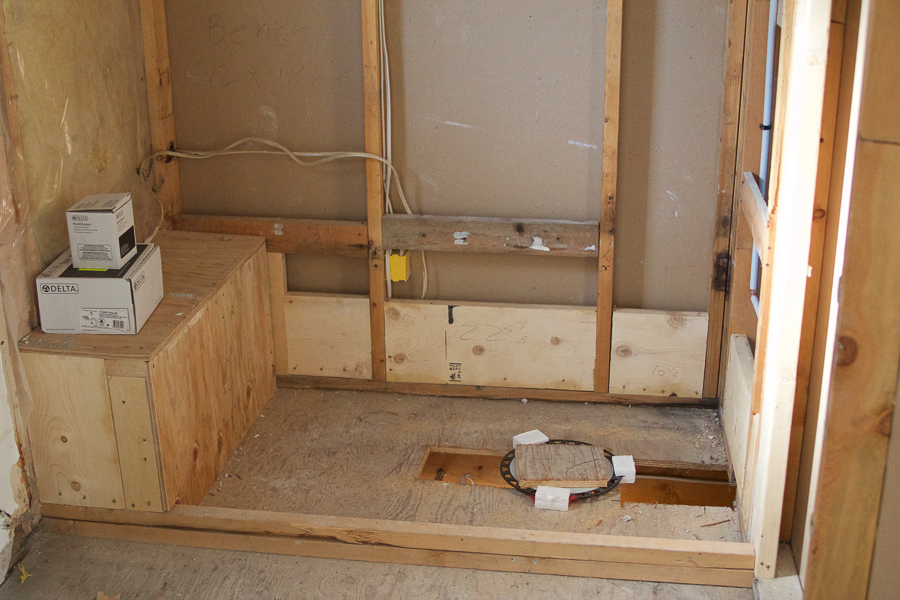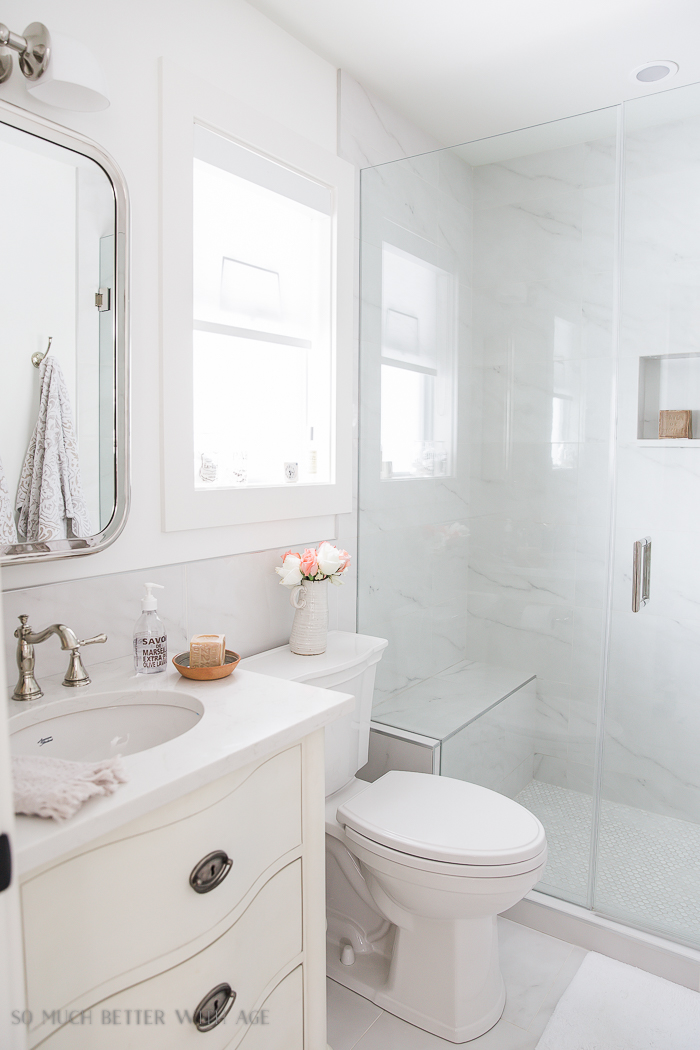 4. ADD A GLASS WALL WITH DOOR WITH CUSTOM TOUCHES
See how this glass wall sits on the bench in the shower? Love this detail from my contractor! It makes this bathroom truly custom.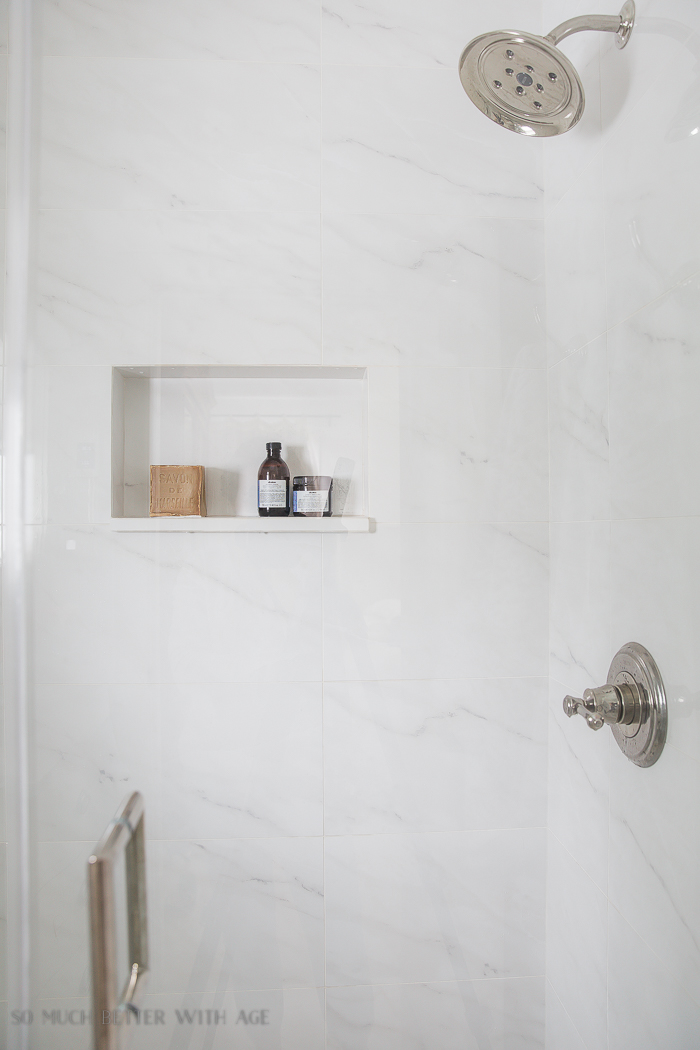 5. HAVE THE TILE FROM THE SHOWER GO ALL ALONG THE WALL BEHIND THE TOILET & SINK
Here's another custom feature from my contractor. The tile in the shower is laid in stacked/blocked pattern and it goes seamlessly from the shower to behind the toilet and becomes part of the backsplash behind the vanity.
6. MIX IT UP WITH ANOTHER TILE ON THE SHOWER FLOOR
I love penny tile and it feels good on your feet. To add more texture in this white on white bathroom, adding another tile makes the design look luxurious.
7. USE TILE AS A BASEBOARD
Using the same tile as used on the floor instead of wood for the baseboards creates cohesion with the rest of the room, and when combined with the schluter edge (that metal edging you see) it creates a very high end luxurious feel. Its also very practical for the wet area.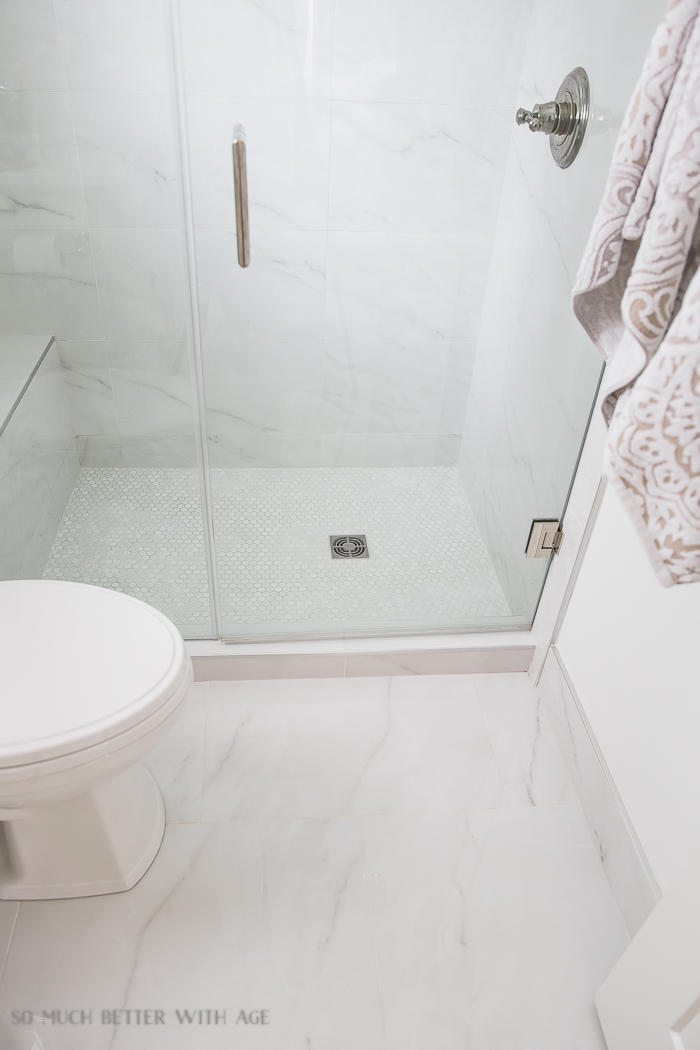 8. ADD HOOKS FOR TOWELS
Instead of a typical towel bar, add some fancy hooks for multiple towels.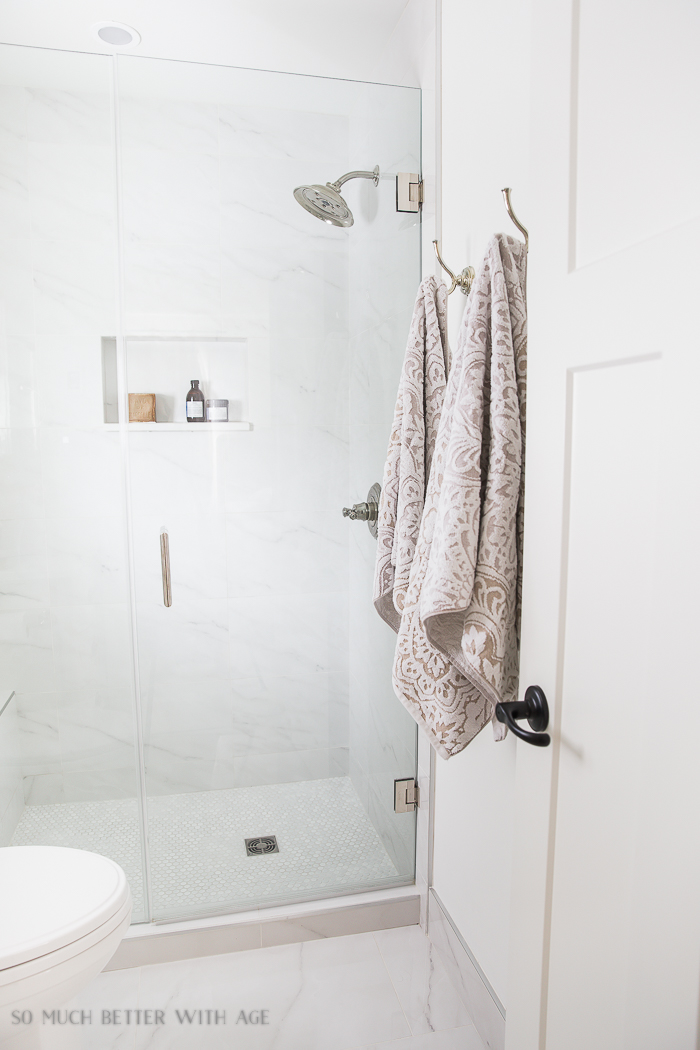 9. ADD A LUXURIOUS MEDICINE CABINET
Medicine cabinets seem like something you might add to this previous 80s bathroom but when short on space, there are some gorgeous ones out there to elevate your space while still being practical.
I found this one from Restoration Hardware in polished nickel. Most are made to install recessed (sit flush in the wall) but they also can come in a top mount so if you don't want to (or can't) cut open your drywall, make sure whichever one you choose looks good sitting on top of the wall. Unfortunately, all the important wiring was in this one wall in the bathroom so on top of the wall it went. Because this vanity is tiny, a medicine cabinet was a must, recessed or not!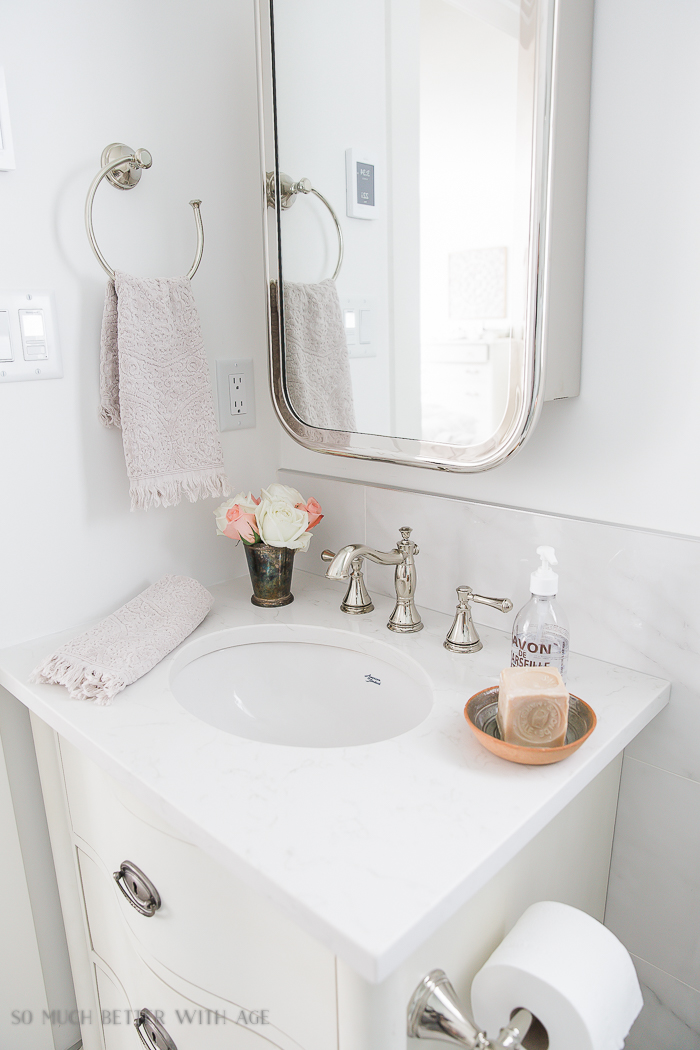 10. MATCH ALL THE HARDWARE WITH THE SAME STYLE AND METAL
And while we're talking about polished nickel, I love a bathroom where all the fixtures match. I'm all about mixing it up in the kitchen but in a tiny room, when all the fixtures match, it makes the space seem more luxurious. It wouldn't be the same if this faucet was a polished chrome against the nickel mirror.
And there's absolutely nothing wrong with chrome! But just make sure everything is the same from the shower head, to the towel hooks down to the toilet paper holder!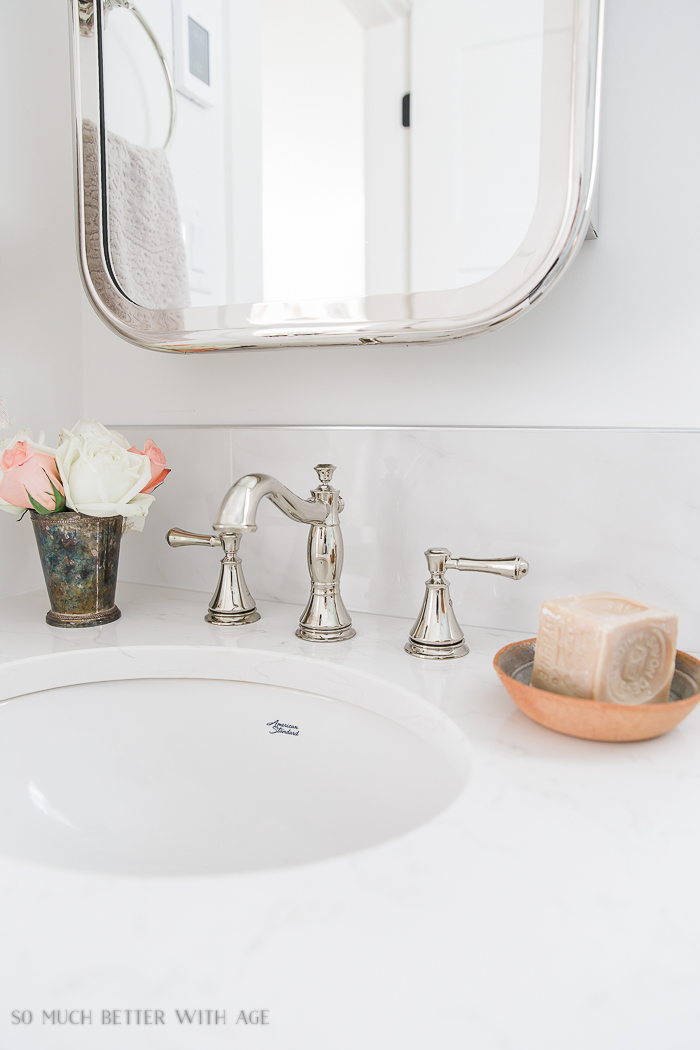 11. ADD A UNIQUE VANITY
I found this vanity at a Restoration Hardware Outlet and fell in love with it instantly. Even though it's a bathroom vanity, I lost one of the drawers as it had to be modified to fit the piping in the back but it was worth it.
I love that it looks like a piece of furniture and I can hide my bathroom scale underneath it.
12. ADD CUSTOM WINDOW COVERINGS
The one thing that didn't get replaced in this bathroom was this 80s window. I had custom linen blinds put on all the windows in my house and it's a luxury for this small bathroom. It hides most of the window while still letting most of the light in and adds a custom touch.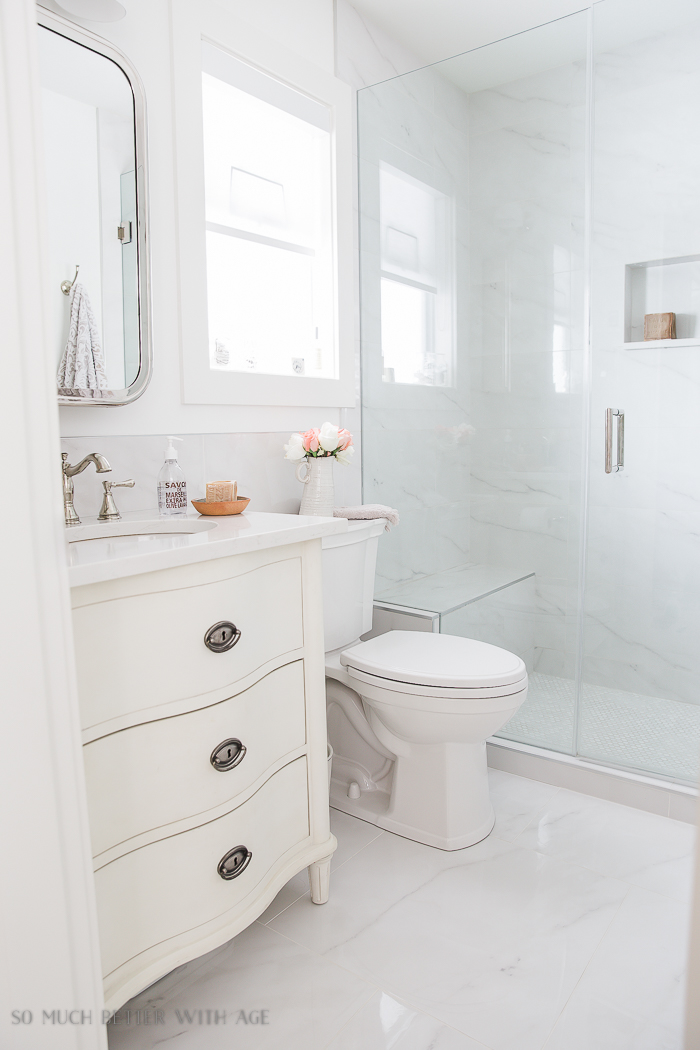 13. HEATED FLOORS
Now this is the ultimate luxury, but if you're going to have a luxurious bathroom covered in tile, wouldn't it be nice to have heated floors?!
There's nothing worse than walking into your beautiful bathroom only to feel cold tile under your feet. Because this space is so tiny, the heating for the floors was not too expensive. It's the only room in the house with heated floors and it's a nice treat.